His Holiness Yangsi Dudjom Sangye Pema Shepa Rinpoche names Bodhivastu's Big Indian Meditation Retreat and Healing Sanctuary
"Trinlay Kachod Ling"
"The name offered by HH Yangsi Dudjom Sangye Pema Shepa Rinpoche, "Trinlay Kachod Ling" has many profound meanings and blessings contained within it. On the one hand, Trinlay refers to the Four Miraculous Enlightened activities of Vajrakilaya one of the main practices of our center. It also refers to Method or Compassion. Kachod, refers to the Wisdom Principle and our practice of the Black Wrathful Mother (Troma Ngagmo) and Ling refers to the place where all this happens in non-dual pure vision. The name therefore blesses the land as a Pureland of the Dakinis benefitting all beings."
-Lama Rangbar-
The Bodhivastu Big Indian Meditation Retreat and Healing Sanctuary is a place where teachings are transmitted concerning the various physical and spiritual practices used within the context of awakening. The center serves as a gathering space for a broad range of community activities including group meditation, prayer, mind training and ceremonies, volunteer initiatives, and body movement instruction. Many volunteers and guests frequent the center to support the center's development via restoration and construction projects.
The land is beautifully secluded yet only a few hours drive from New York City in the town of Big Indian bordering a large state park wild life sanctuary. We are always developing and restoring the facilities as an art work of life, devotion and purification.
His Holiness Yangsi Dudjom Pema Shepa Rinpoche visits
Bodhivastu's Big Indian Retreat Sanctuary
At the sincere request of Lama Rangbar Nyimai Ozer, His Holiness Yangsi Dudjom Pema Shepa Rinpoche visited Bodhivastu's Big Indian Meditation Retreat and Healing Sanctuary on July 5th, 2019. This extraordinary visit represents a fulfillment of a long time cycle spanning two Dudjom incarnations. Decades ago, while Lama Rangbar Nyimai Ozer was on retreat under the guidance of the previous Dudjom Jigdral Yeshe Dorje Rinpoche at Orgyen Cho Dzong in NY, he had heard that some people came from a nearby Ashram to get a tsokshing (Spine of a Stupa) in the shape of a Large Phurba, blessed by his Holiness for a Stupa dedicated to their Guru Swami Rudrananda. HH Dudjom Jigdral Yeshe Dorje Rinpoche blessed that and now, some thirty years later, due to the miraculous blessings of His Holiness, this Ashram has become a Dudjom Tersar meditation center where Vajrakilaya is practiced. Recently at our humble request, HH Yangsi Dudjom Pema Shepa Rinpoche blessed the entire Stupa in person. Please enjoy the photo gallery highlights below: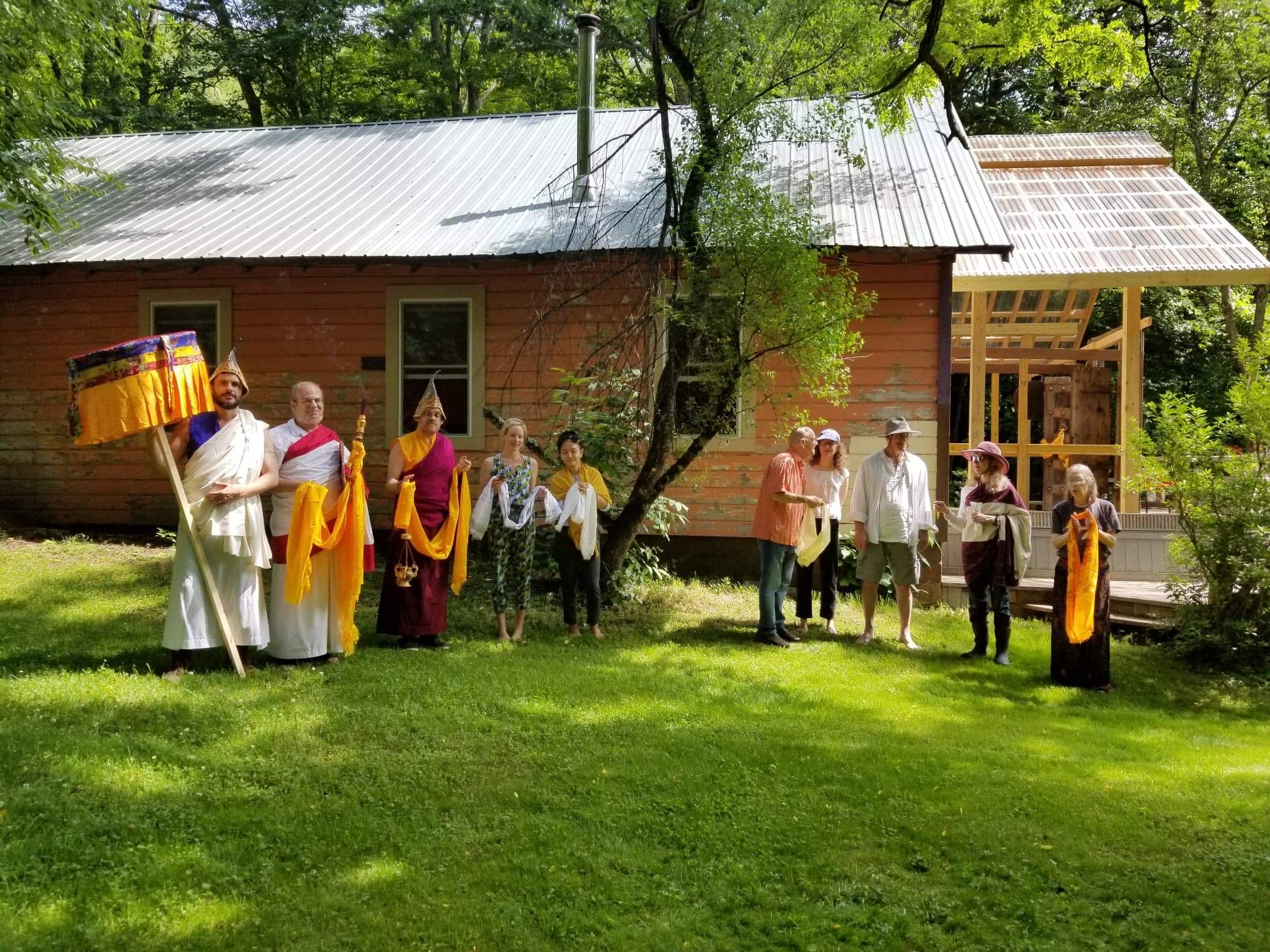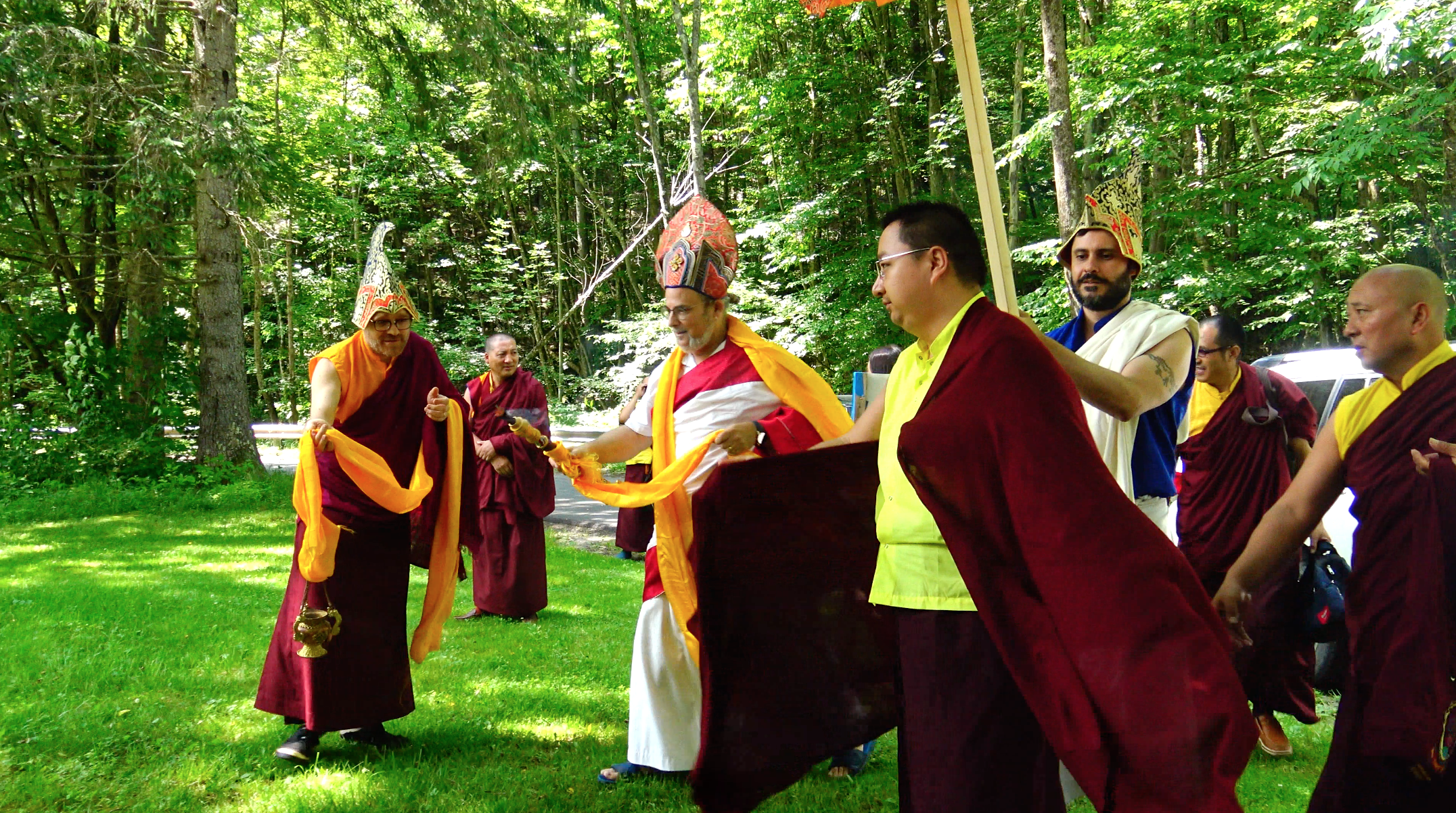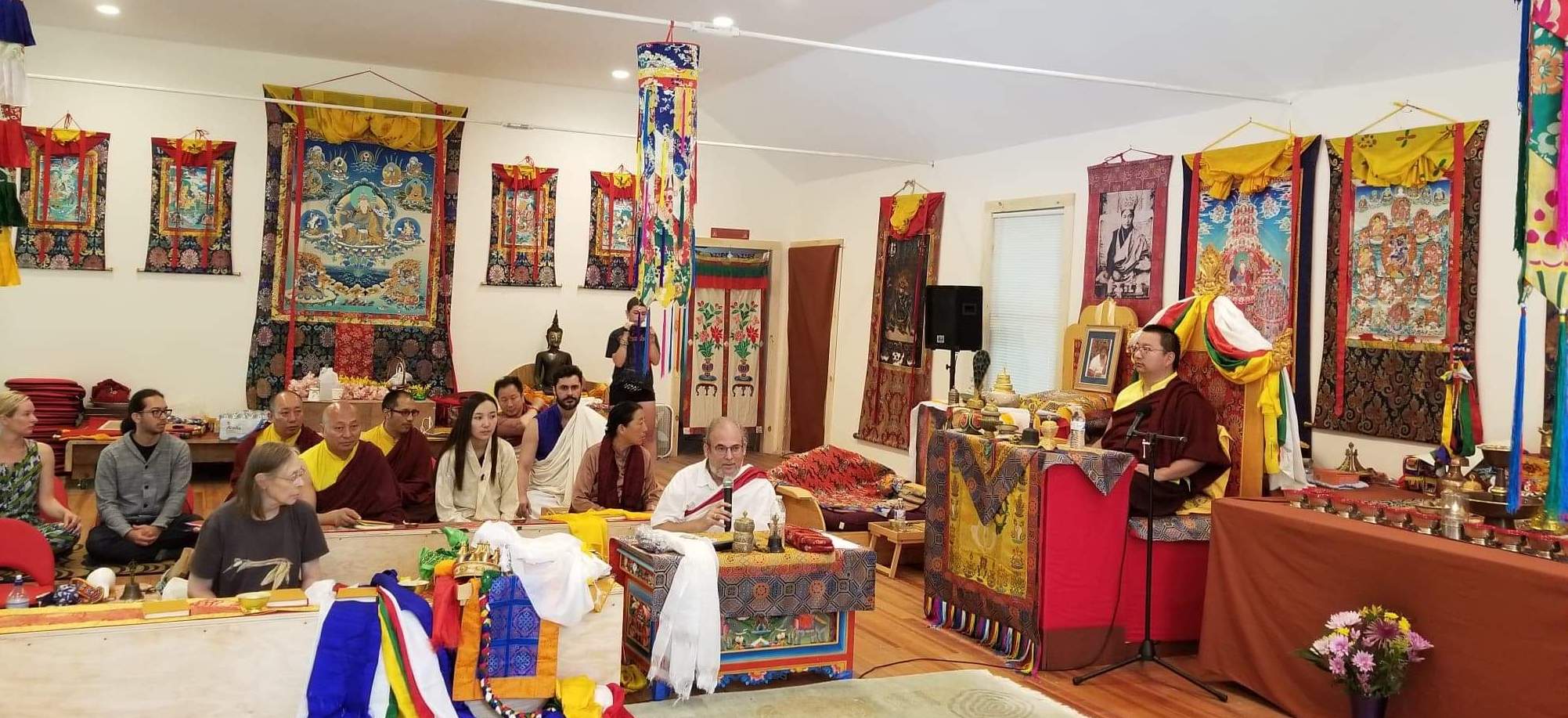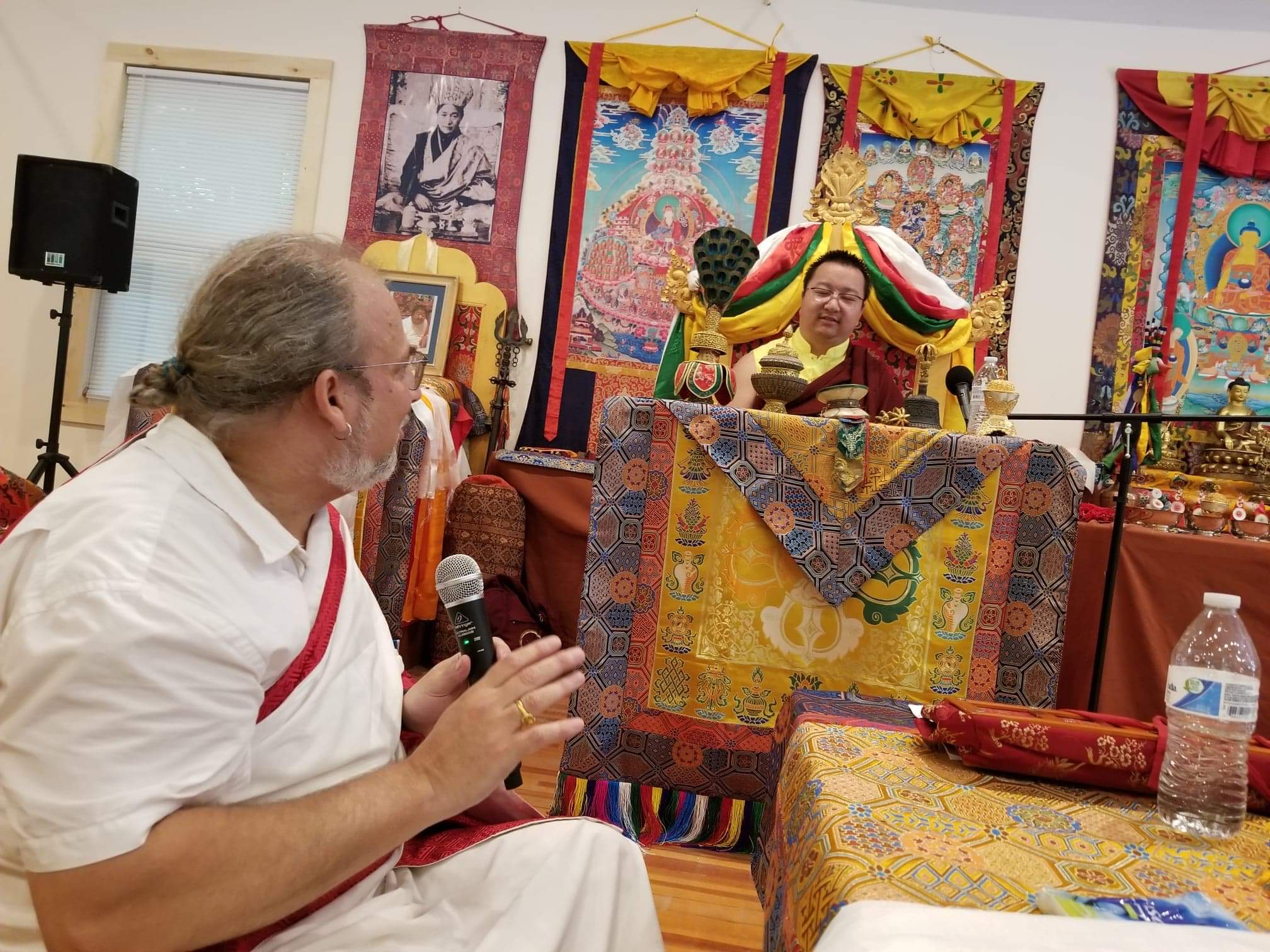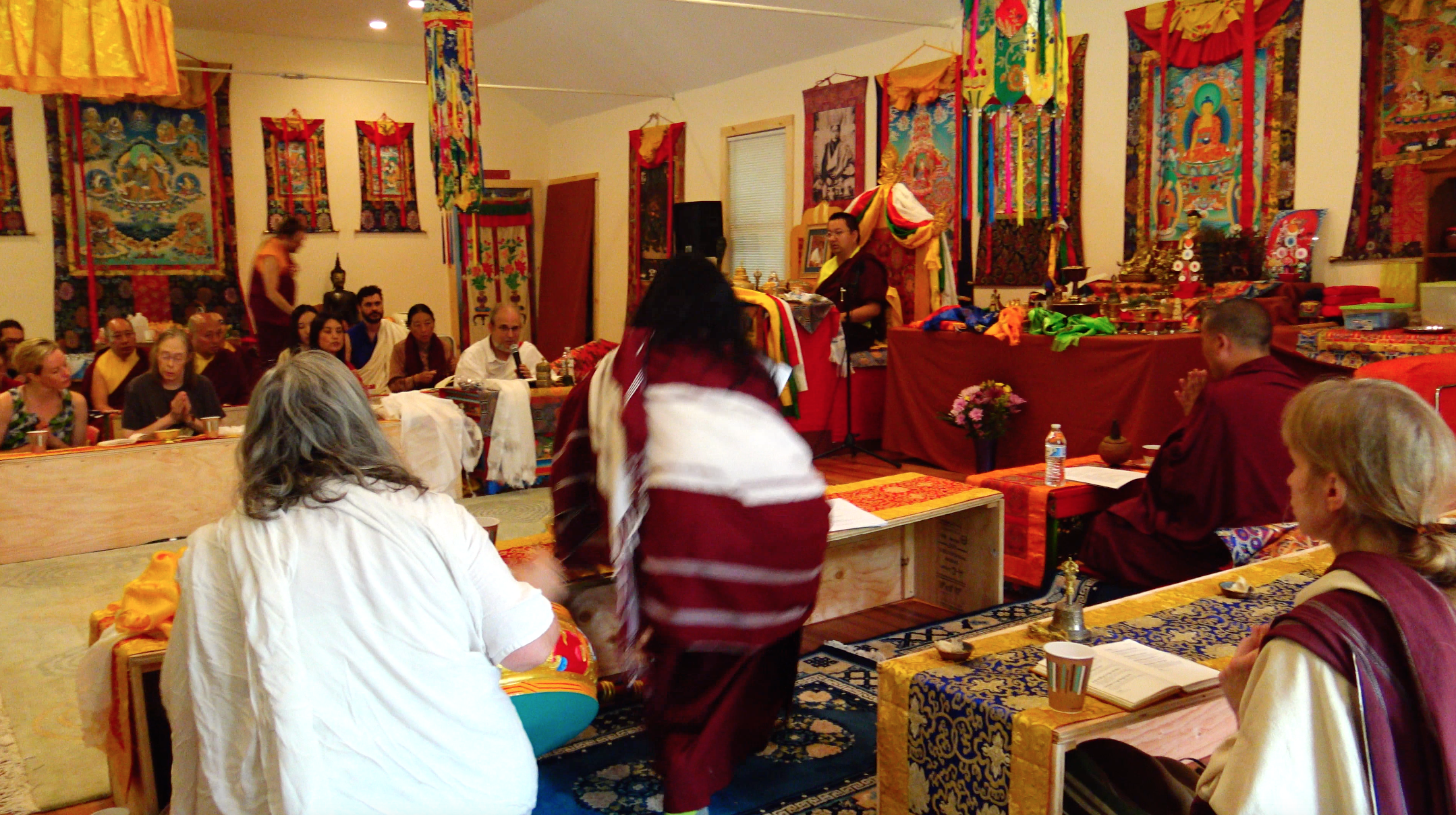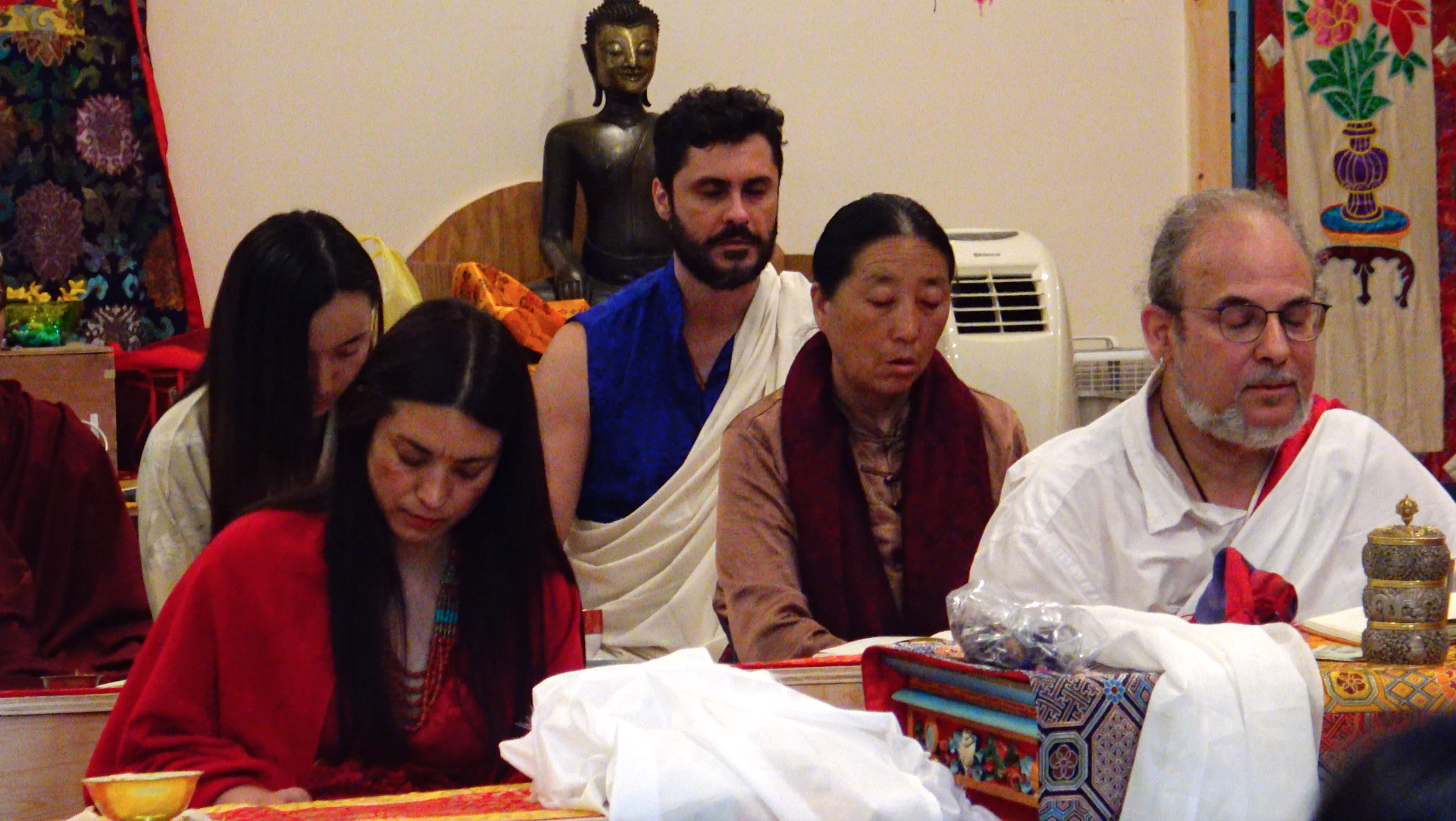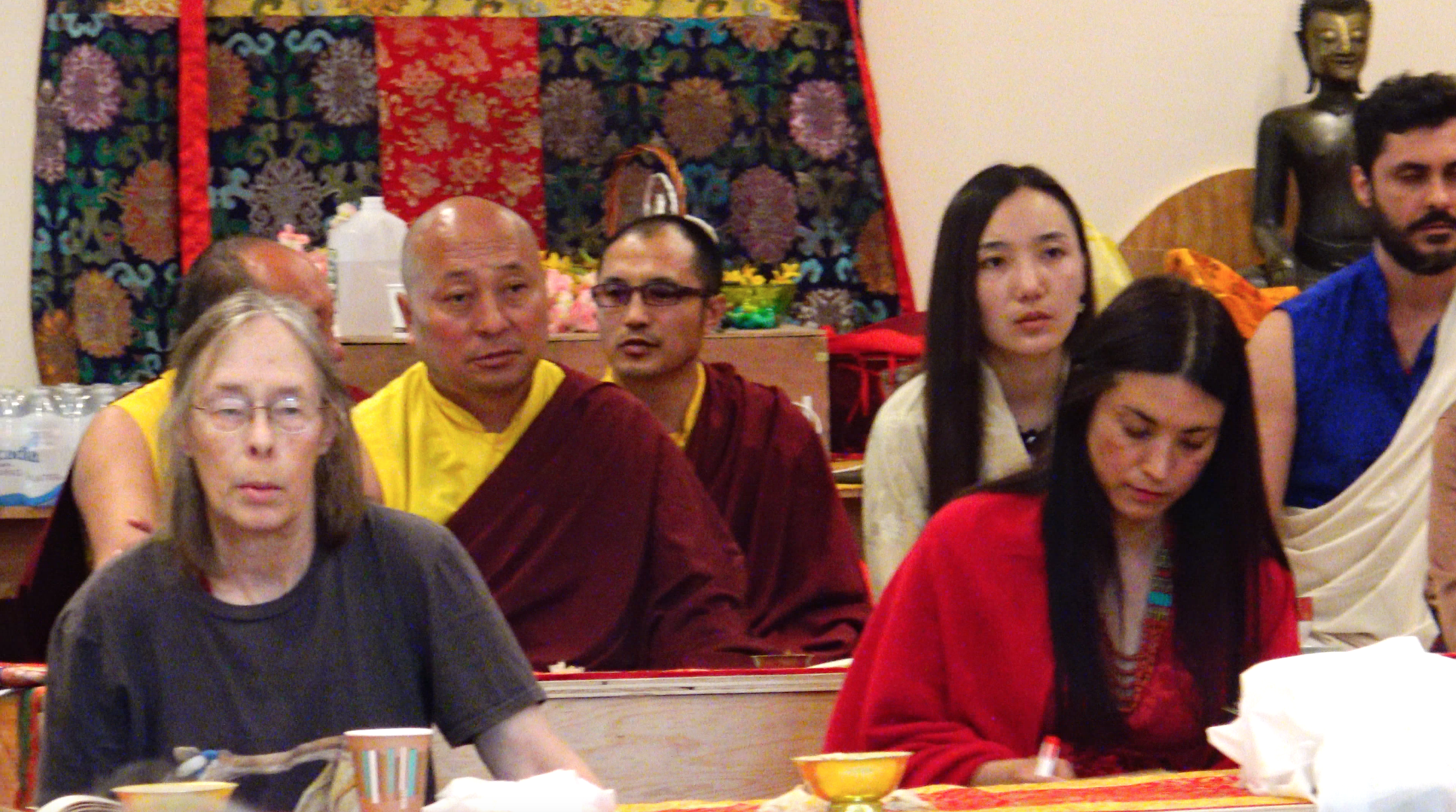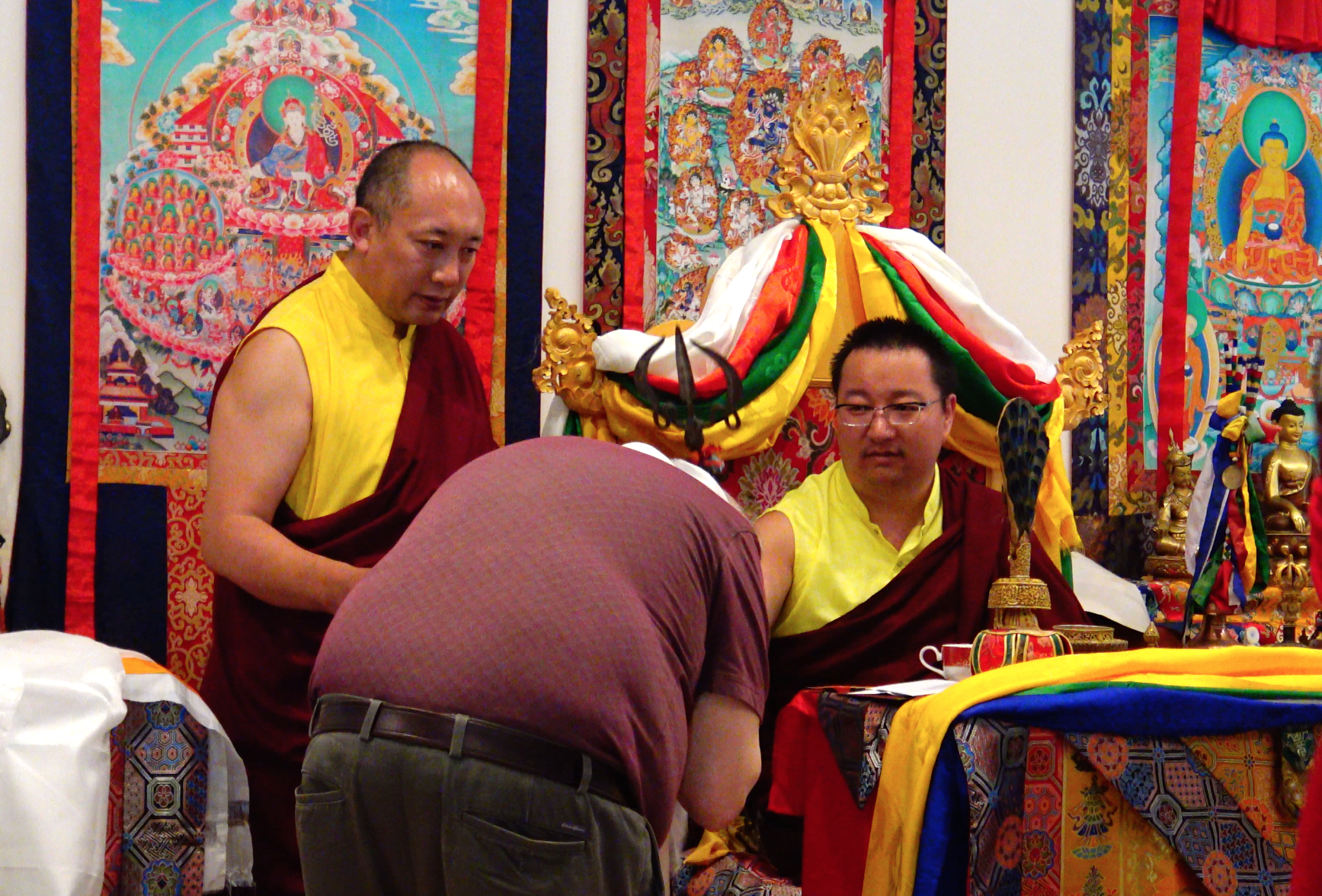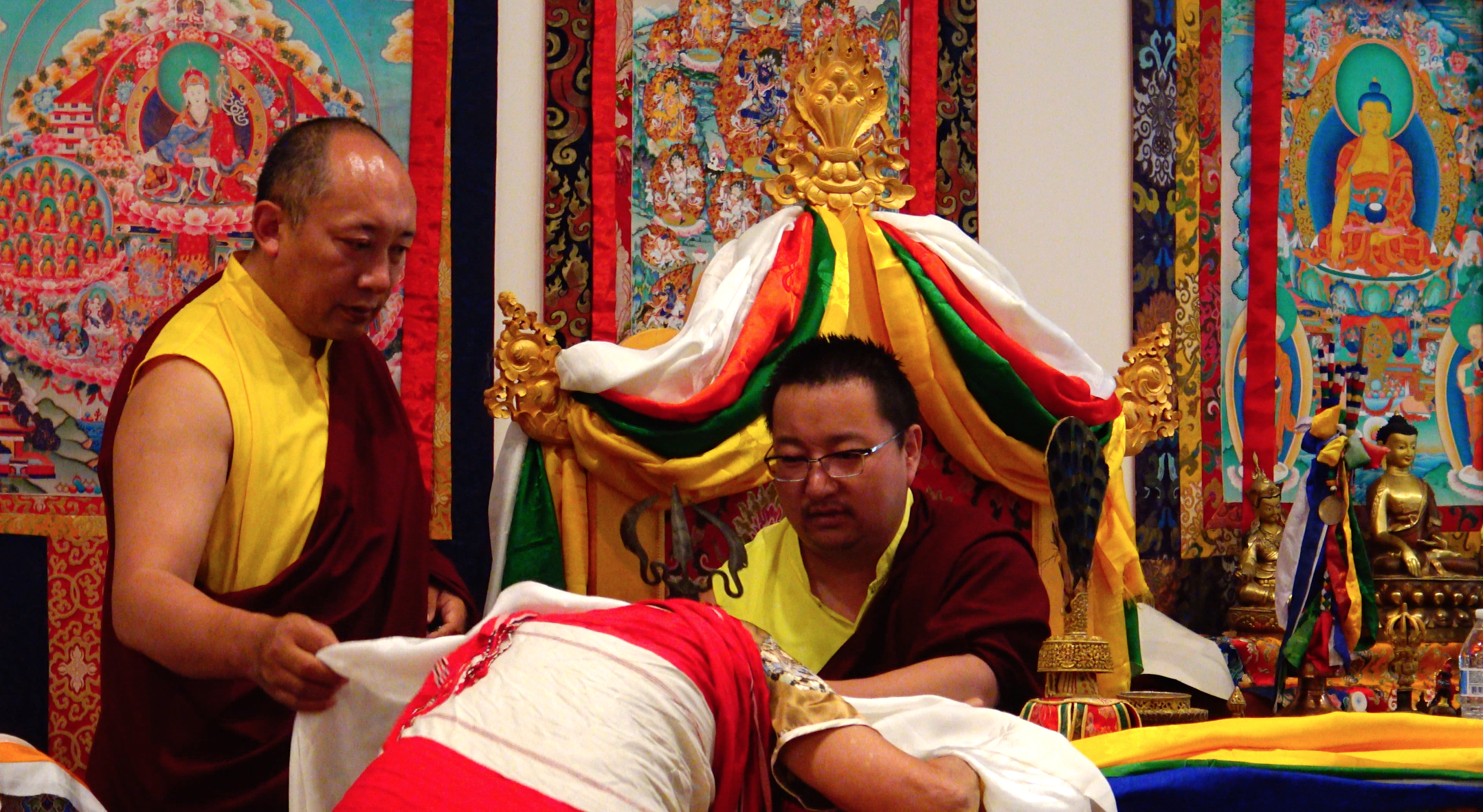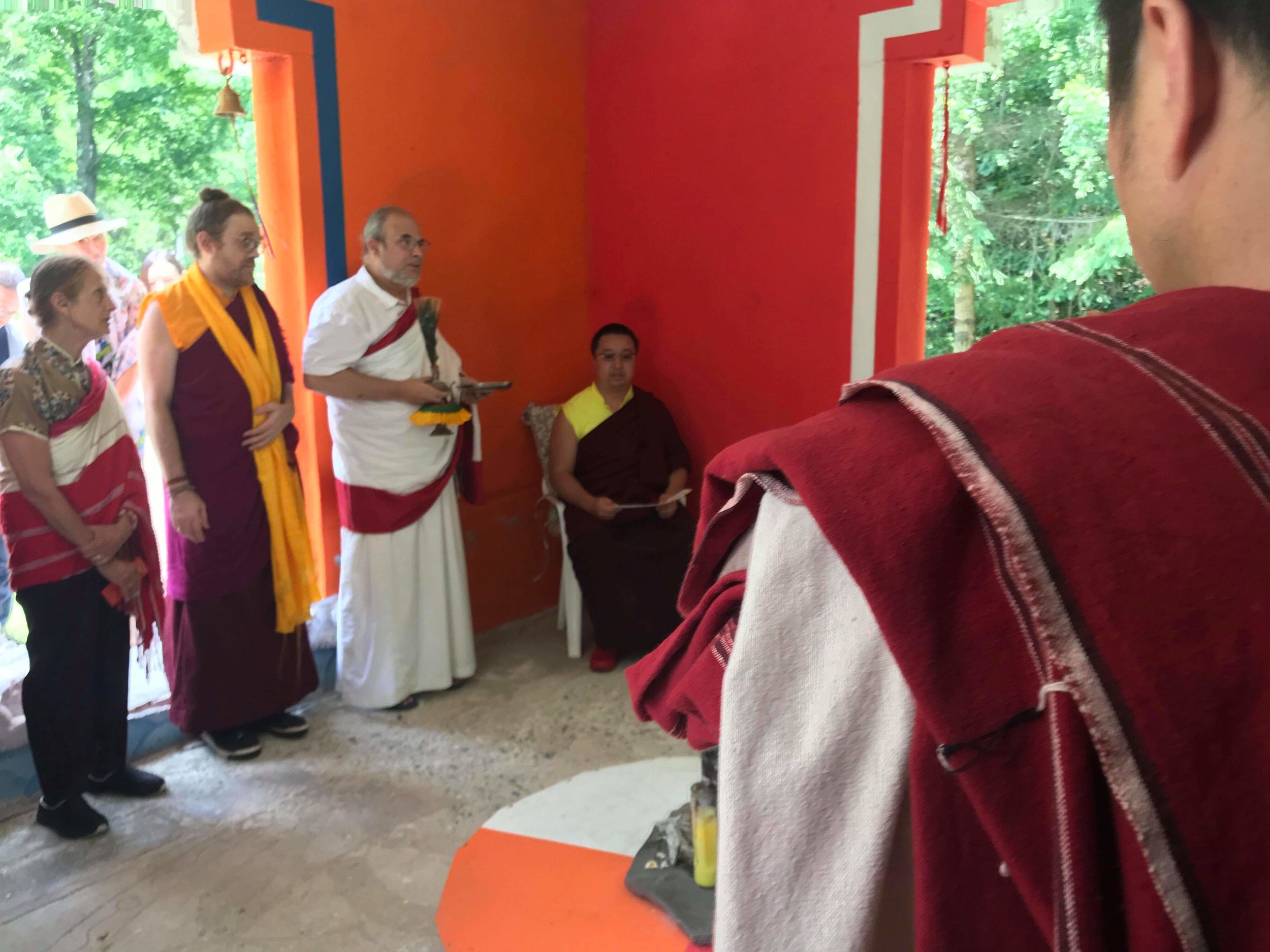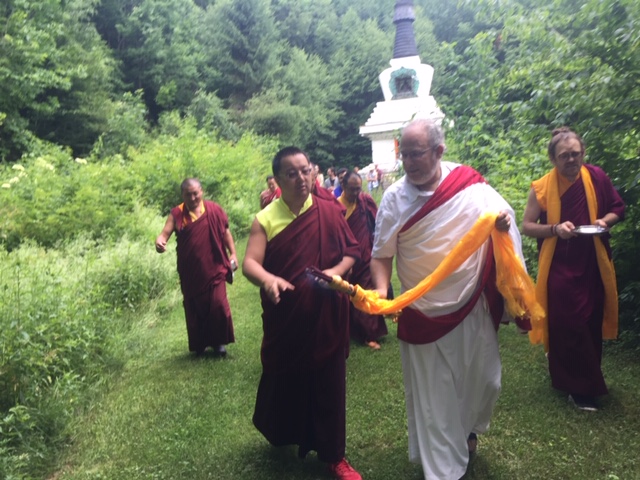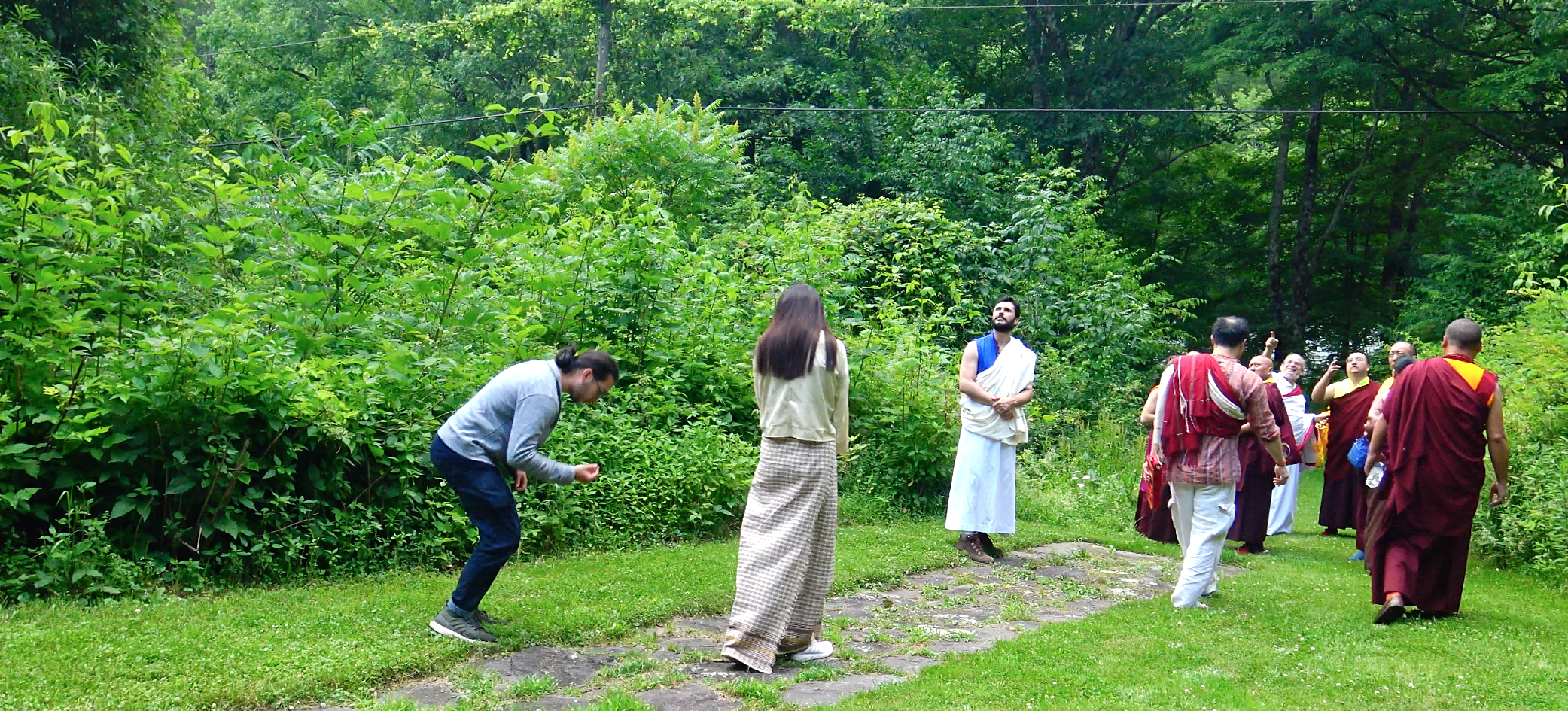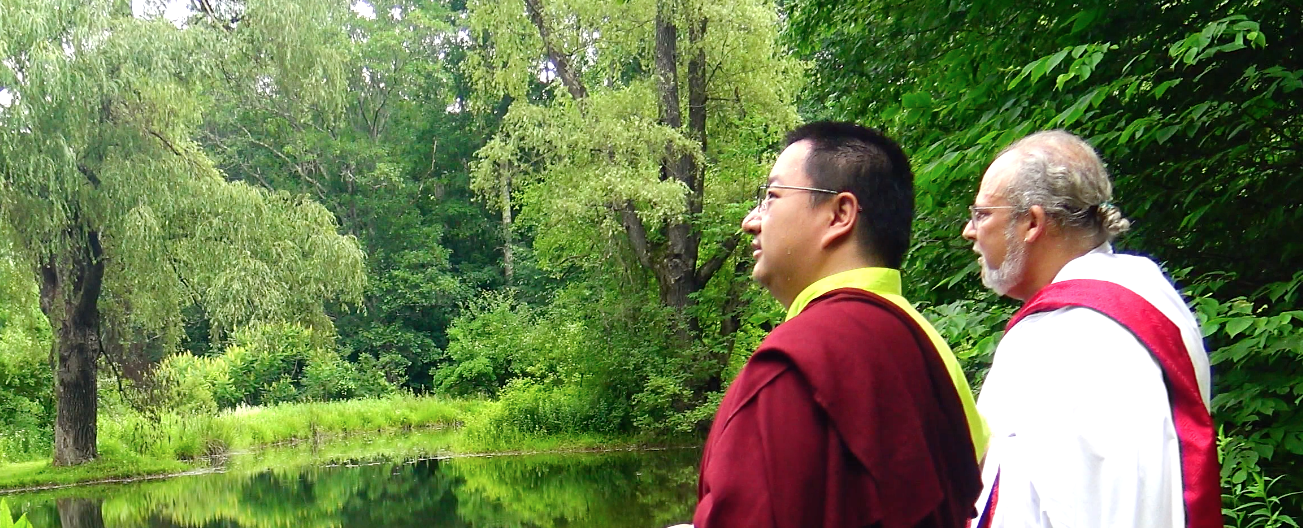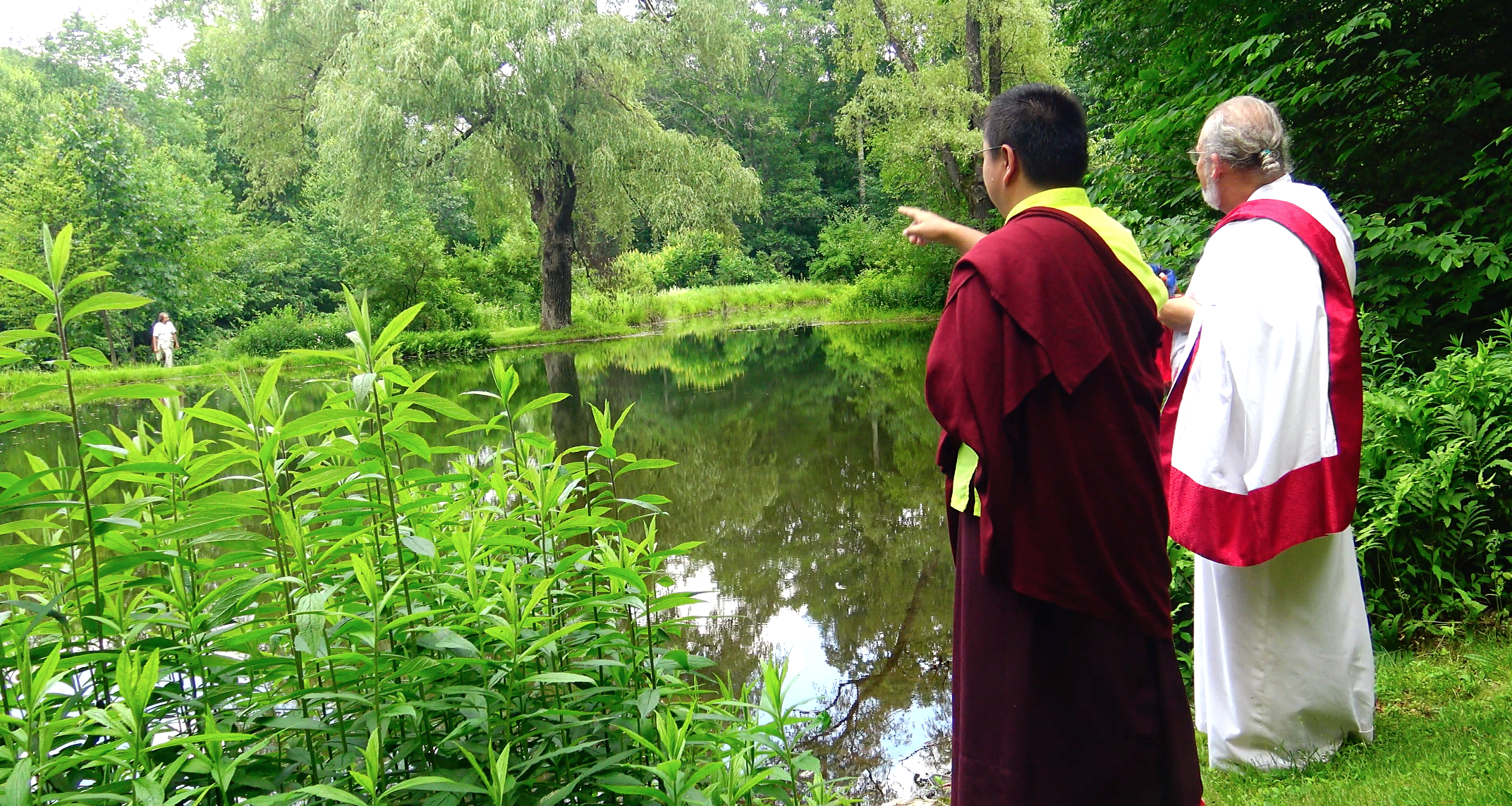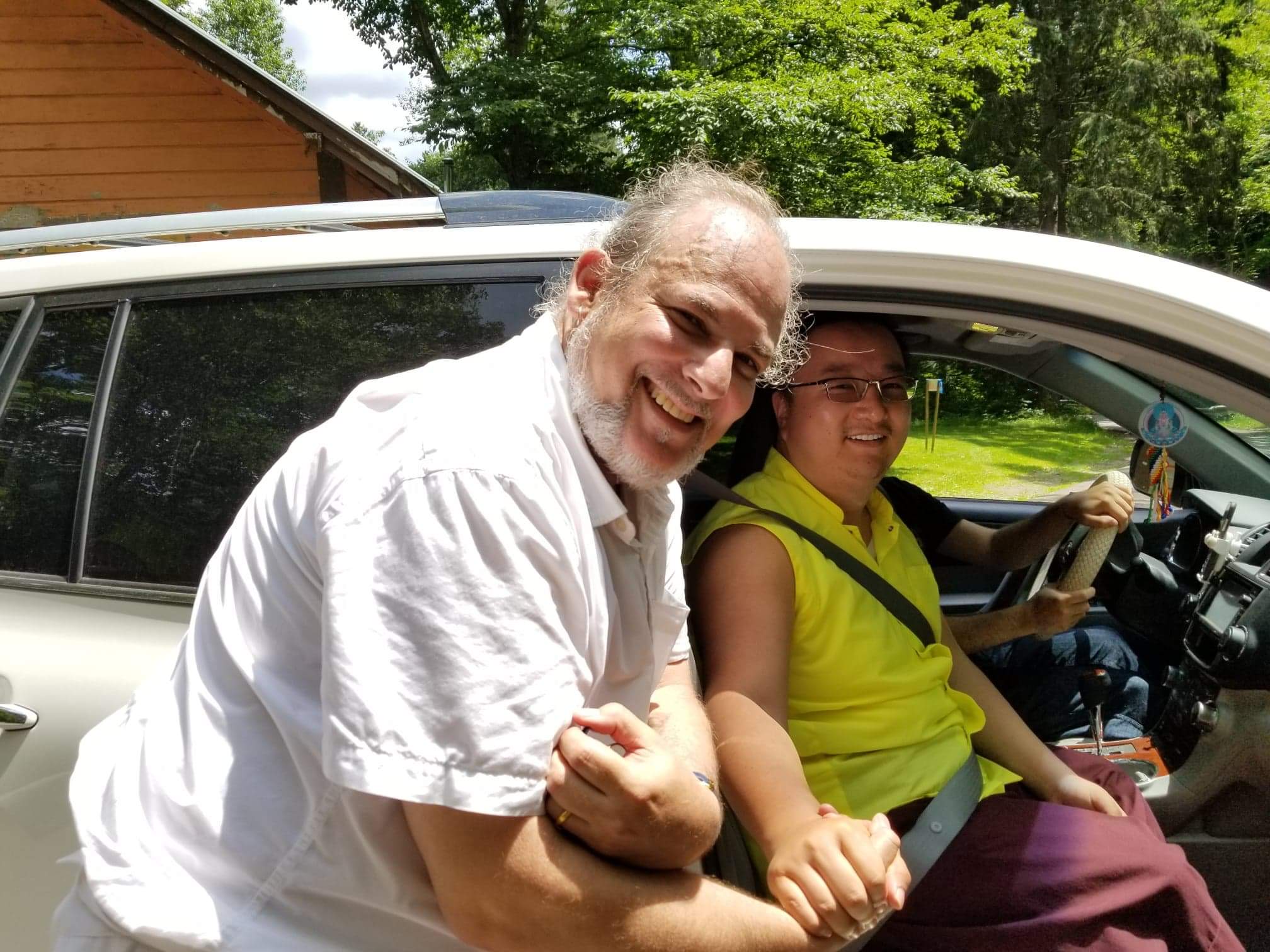 Important Announcement about
Bodhivastu's Big Indian Meditation Retreat and Healing Sanctuary:
Please note that there is no WIFI or cellphone connectivity at Big Indian. Whereas many may check to see if they will be able to "get online" we promise you that you cannot. Bodhivastu's Big Indian Sanctuary is tucked into a deep clove created millions of years ago by glacial movement. The clove (called Lost Clove Road), means that no cell phone transmissions are possible. One may think that not having these things is only a down side when in fact, the deep feeling of peace everyone experiences at Big Indian are one of its best completely palpable amazing features. If you want to know one of the factors in your stress, visit us and you will understand within an hour. Imagine a place where there is no need to tell your group to switch off their cell phones in order to participate in real life!
Dear Sangha Members, Community at Large and Friends of Bodhivastu,
We would like you all to know that the following letter bearing a most excellent news was issued jointly by Dr. John Mann and Lama Rangbar. This bodes extremely well for our community at large:
Announcement from Lama Rangbar and Dr. John Mann
"In celebration of the unfolding of past aspirations of many great beings into the present moment, we are happy to announce that Big Indian will continue towards the fulfillment of its arising as a highly blessed Meditation and Spiritual Retreat Sanctuary. Dr. John Mann and Lama Rangbar have come to a harmonious agreement whereby the remaining portion of the Big Indian Ashram property will henceforth be owned and managed by the Bodhivastu Foundation for Enlightened Activity. Further development of the land in its entirety will continue going forward along with all the normal center's activities. We encourage you all to continue to enjoy the property for your spiritual development and contribute to its growth and fulfillment by attending and supporting its activities in whatever ways you deem possible.
With appreciation for the energy, time and support that you may have given Big Indian in the past and a growing sense of anticipation and excitement for what the future may bring.
Dr. John Mann & Lama Rangbar
Lama Rangbar recounts an interesting piece of history related to the land transition:
"Circa the very early 1980s, I was on a one year meditation retreat under the guidance of His Holiness Dudjom Rinpoche at his meditation center in Greenville, NY. Word got into my retreat that some visitors had come from the Rudi community carrying a huge Phurba fabricated from the airplane from the crash that took Rudi's life. They had come to request His Holiness Dudjom Rinpoche to bless the Phurba to be used as the central shaft (Tsog Shing) of the Stupa they were building in Rudi's honor. Who could have guessed that the same property and stupa would come to be under the auspices of the Dudjom Tersar Lineage some three decades later? Wonders never cease."
Please enjoy the brief video about the complete transition of the land to Bodhivastu Foundation below:
This year, 2019, starting in April, our community will be engaged through the summer and fall in ushering in the Big Indian center into greatness. We will be holding retreats, workshops, community gatherings and work study programs as we renovate the entire center and prepare for the Stupa of the great Awakening and Phurba Mandala projects. See: https://www.thegreatawakening.org/stupa-of-the-great-awakening
To learn more about the Big Indian facility upgrade projects please click the button below:
Video Highlights of the visit of H.E. Kathok Situ Rinpoche
and H.E. Tulku Namgyal Dawa Rinpoche to the Big Indian Center June 2018
H.E. Kathok Situa Rinpoche and Tulku Namgyal Dawa Rinpoche are both sons of the late H.H. Dungse Shenphen Dawa Rinpoche. They are also grandsons of the previous H.H. Dudjom Rinpoche, one of the greatest accomplished masters of the Nyingma of our time.
The two Lama came to Big Indian in order to bless the land and to make aspiration prayers for its obstacle-free unfolding as a an important spiritual center that will benefit countless beings going on into the future. The Lamas blessed the entire area and also performed a washing (tru) and consecration ceremony of the existing stupa of Intrinsic Transformation.
Lama Rangbar and Bodhivastu's Big Indian Meditation Retreat Sanctuary
Previous Events
Naga Puja and Prayer Flag Raising Ceremony
October 11th, 2015
On Sunday, Oct. 11, the Bodhivastu Foundation conducted an auspicious and prayerful Naga offering ceremony called "Lu Tor Dutsi Gyamtso" conducted by Lama Rangbar Nyima Ozer. It involved a Naga purification offering followed by a raising of special prayer flags with a prayer written by Kyabje Chatral Sangye Dorje Rinpoche to avert nuclear war.
You can read the prayer composed by Chatral Rinpoche by using the following link:
A Prayer to Avert Nuclear War by Chatral Rinpoche
A Prayer to Avert Nuclear War
Play Video: