Bodhivastu's Big Indian
Meditation Retreat
and Healing Sanctuary
Development of Facilities
That's right, the Big Indian Land has now been fully transferred to Bodhivastu and now is the time to for us all to rally together to make Big Indian the home of the unique facilities that will support both short and long term teachings, as well as group and individual practices and retreats. Please consider a one-time or recurring monthly gift so that all our common wishes to develop the community facilities can be quickly realized and enjoyed by all and for all. Please see our plans for Big Indian below and be part of the action!
Here is a list of the facilities that need your generous support to bring to fruition:
1. Renovation of the Community Gathering and Meditation Shrine Hall.

This Space has now been renamed as: "Mandala Hall"
Receiving teachings is the first step on the journey of individual practice. By offering both group and individual practice facilities, opportunities for balanced and meaningful transformation are greatly enhanced. Renovation of the Meditation Hall is the first priority so that we can all make use of the facilties together.
The Community Gathering and Meditation Shrine Hall is an excellent structure which needs some renovations and love and care. Works planned include: take down old wall covering, insulate for winter, re-wiring, new heating system, addition of toilet and kitchenette, shrine construction, foundation, sill, and siding repairs, and front porch reception area. This Hall will serve several communities, including the Dudjom Tersar Bodhivastu Sangha, Rudi students, and the Sai Maa community for teachings, retreats, and regular meditation practices.
2. Roads, Lakeside Pathways, and The House of Teas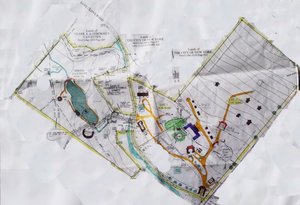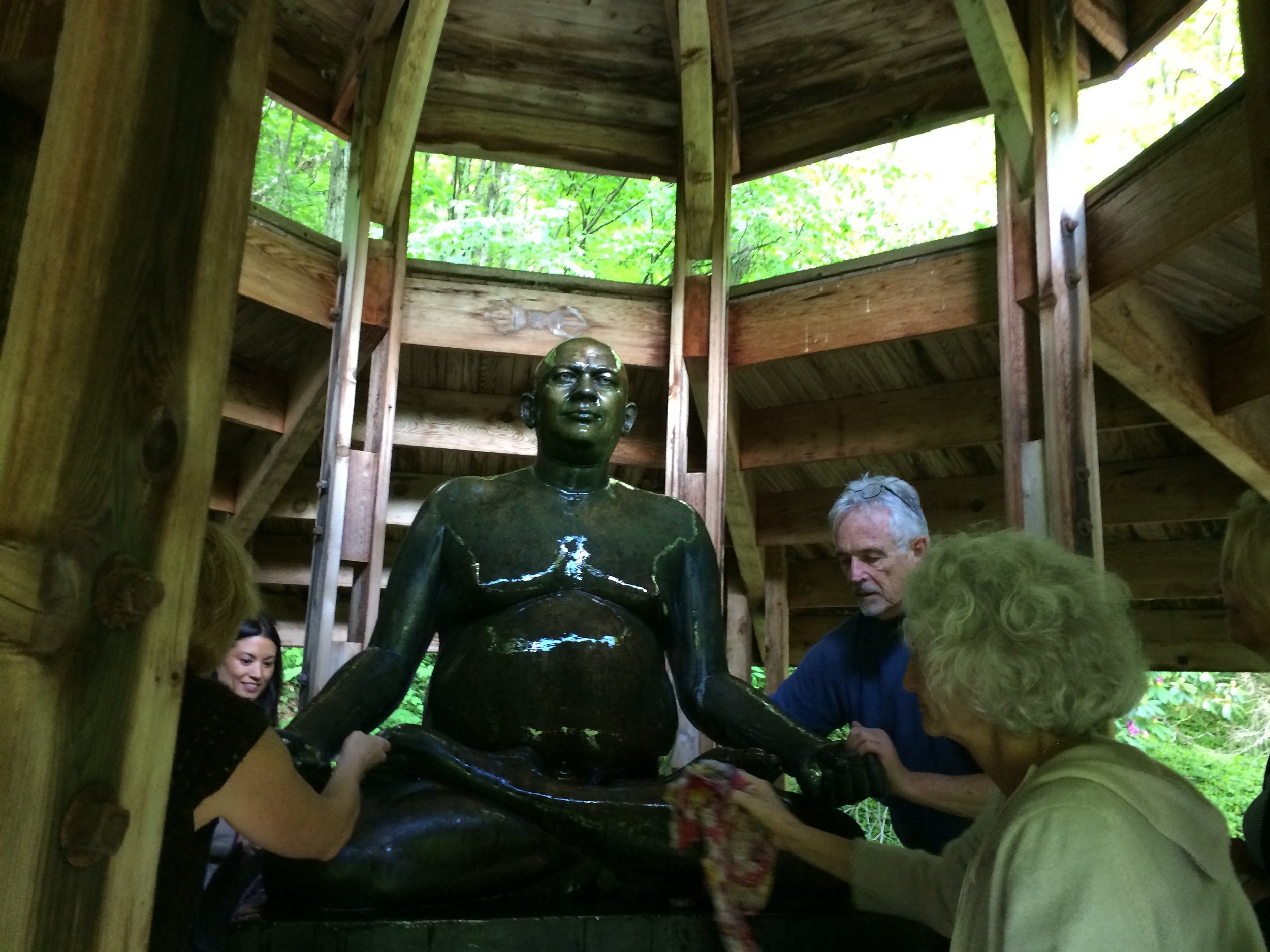 Several proposed roads and paths are needed to allow for service access to retreat cabins and proposed facilities across the 22 acres of Center land. In addition, roads and pathways must be developed for the stupa area and a complete lakeside meditation circumambulation (Korwa in Tibetan).
It is not surprising that medical experts now realize the major benefits of simply being in nature. The lakeside circumambulation path (Korwa) will allow both seasoned meditation practitioners and the general public to relax in nature while receiving great inspiration in a loving natural environment. Of course, all pilgrims need sustenance and so in most seasons the teahouse will offer refreshment, enjoyment, and sustainability of the monument and gardens.
Contemplative landscaped pathways will lead to representative temples from many countries, cultures, and faiths, showcasing their architectural styles. The gardens will provide many opportunities for personal and group meditation practice, arts, and discussions.
3. Installation and construction of several Retreat Cabins
Whereas receiving teachings is the first step on our journey of individual practice, teachings without individual retreat practice is like buying a house plant and not watering it. Therefore, individual and group retreats are essential parts of any true spiritual path. Since people require a wide range of facilities to accommodate their individual levels, we will build retreat cabins in varying styles at various locations on the property. The construction of these cabins will provide a wonderful opportunity to learn and apply sustainable building practices and bring our creativity to the path.
4. Renovation of Lama's Cabin and Visitor's Quarters
Typically referred to as a rectory in Western terms, once renovated, this cabin will serve both full time resident Lamas and visiting Lamas, teachers, and dignitaries. The cabin is badly in need of repairs, and its restoration and improvement will provide an immediate residential opportunity at Big Indian for projects and events.
5. Maha Bodhivastu World Peace Stupa Mandala
The establishment of stupas, shrines, statuary and other blessed supports of enlightenment is an important part of the Buddhist path. These supports help us all turn our ordinary random minds towards the practice of compassion. Such supports, when constructed and blessed properly, generate powerful streams of tangible blessings now and long into the future for generations to come. The Maha Bodhivastu Stupa has been prophesied by the "KaNyen" of Guru Padmasambhava, the Nyingmapa protector Tsiu Marpo, as a key method to pacify several human made as well as natural disasters, warfare, and strife and to draw forth great prosperity for all beings.
The stupa was named: "Phuntsok Chorten" by His Holiness Dodrupchen Rinpoche. For more details about this project please see the presentation below.
6. Establishment of the Vajrakilaya Buddha Activity Mandala
During Acharya Lama Dawa Rinpoche's visit to our Academy of Mantric Disciplines, Rinpoche stressed the importance and benefits of establishing Vajrakilaya Mandalas to generate peace in this world and beyond. Inspired by Rinpoche's encouragement, Lama Rangbar has engaged highly trained Bhutanese craftsmen to create an entire Phurba Mandala made from Acacia wood according to the Namchak Pudri cycle of Dudjom Lingpa. The work started several months ago and is about half way completed. (see slide show below)
Lama Rangbar plans to prepare a place at our Meditation Retreat and Healing Sanctuary in Big Indian, NY in Spring 2019 to receive and house the completed Mandala. For this Mandala stage we need to raise $7,500 to complete and bring the mandala to the USA. You can connect to the blessing stream directly by supporting the fulfillment of this profoundly meaningful project by using the below donation page link.
Wellness Center and Health Clinic
An indigenous and alternative practices treatment spa will be a facility of the highest quality and will enable the preservation and application of valuable traditional methods of treatment.
Community Residences
There will be community residences, including townhouses, for resident practitioners and guest housing for the international Sangha.
Senior Contemplative Living Residences
Many aging Westerners wish to grow old gracefully and meaningfully by integrating their lives with practice and further study. The Center will accommodate this fast growing segment of the population, who wish to age with dignity and use their time to gain insight through continued spiritual practice.
Natural Outdoor Amphitheater / Exercise Pavilion
An outdoor amphitheater structure that will accommodate 200 people is planned for music, dance, or theater events.
An exercise building will facilitate movement teachings and practices of various body movement systems. These are deemed essential for individual and community health. To see the designs and learn more, click here:
Community Art Studios
Our existing barn at the Center will be transformed into a ceramics and art studio. Many art projects for the stupa will occur here as well as other sacred art works such as Wealth, Naga, and Earth Vases, tsa tsas, ceramics and castings, etc. A large production kiln has already been donated and all that remains is to upgrade the facilities with a proper poured floor, electricity, lighting, and some basic plumbing.
Regenerative Agriculture
The regenerative agricultural systems at the Stupa for the Great Awakening will provide the surrounding community with nutrient-dense, clean sources of food and medicine, grown using organic sustainable farming principles and practices.
By designing with whole ecological systems in mind, we will use techniques to mitigate ecological issues such as drought, flooding, and erosion. The agricultural practices will focus on building soil in the process of growing food.
Planned Projects
1. Lake dredging, clearing, and establish Lakeside trail
2. Lakeside Teahouse gazebo, Naga Palace, Nad Jom water prayer wheel
3. Water system catchment and swamp work
4. Septic renovation for Meditation Hall and Lodge
5. Cabin installation and central bathroom facilities: apply for town permission, site prep for cabins, order raw lumber for seasoning, engage Amish
6. Guru Ku import, filling and consecration
7. New community building planning
8. Vajrakilaya Mandala installation in existing stupa
9. Lodge teardown
10. Upgrade electrical system
11. Ceramics Barn: pour slab, import kiln, install electrical system
12. Stupa of Great Awakening
Letters from Major Buddhist Teachers
Endorsing the Stupa Project
Since religious differences have been cited by many as a cause of strife in this world, this project also aims to use every opportunity to illuminate the commonalities between belief systems while extolling their individual beauties and contributions to humankind's search for higher spiritual truths. By this, we can finally live in a world founded on principles of wisdom and compassion. Through the activity of constructing the Stupa of Great Awakening, we are generating a critical mass of like-minded awake individuals while establishing well-being, peace, and prosperity. Our projects help us learn to cherish our neighbors and live an awakened life to its fullest. This project offers a common ground for all, an accomplishment for the benefit of all beings and a lasting beacon of interdependence and wisdom for all future generations.
The Need for Peace
We live in a time of great challenge and great opportunity. We are rapidly destroying our environment while warfare, mental afflictions, poverty, and environmental exploitation affect everyone without bias. Collective consequences are clearly evident to most of us. As a result, the time is ripe for an unprecedented collective shift in awareness on our planet. The time has arrived when we can finally awaken to the full understanding and implications of our interdependence and act on it.