Tsasum Chokhorling Gompa
(Chemorito) Chemo Dhar, Kham Riwoche
Tsasum CHokhorling Gompa dedicated to Dudjom Lingpa, was established by Sera Khandro in 1929 in a small village called Chemo Dhar in Kham Riwoche Tibet. It is known locally as Chemorito Gompa and is watched over by two of Dudjom Lingpa's disciples: Lama Dakpa Tenzin and Lama Tenzin Glaytso.

This gompa offered some extremely Dudjom Lingpa precious relics for the mendrup made during the Bodhivastu Vajrakilaya Mendrup drupchen held this past November at Dechen Mingyurling in Nepal. Thanks to the kindness of Semola Thinlay Choetso we were able to include these relics in the mendrup.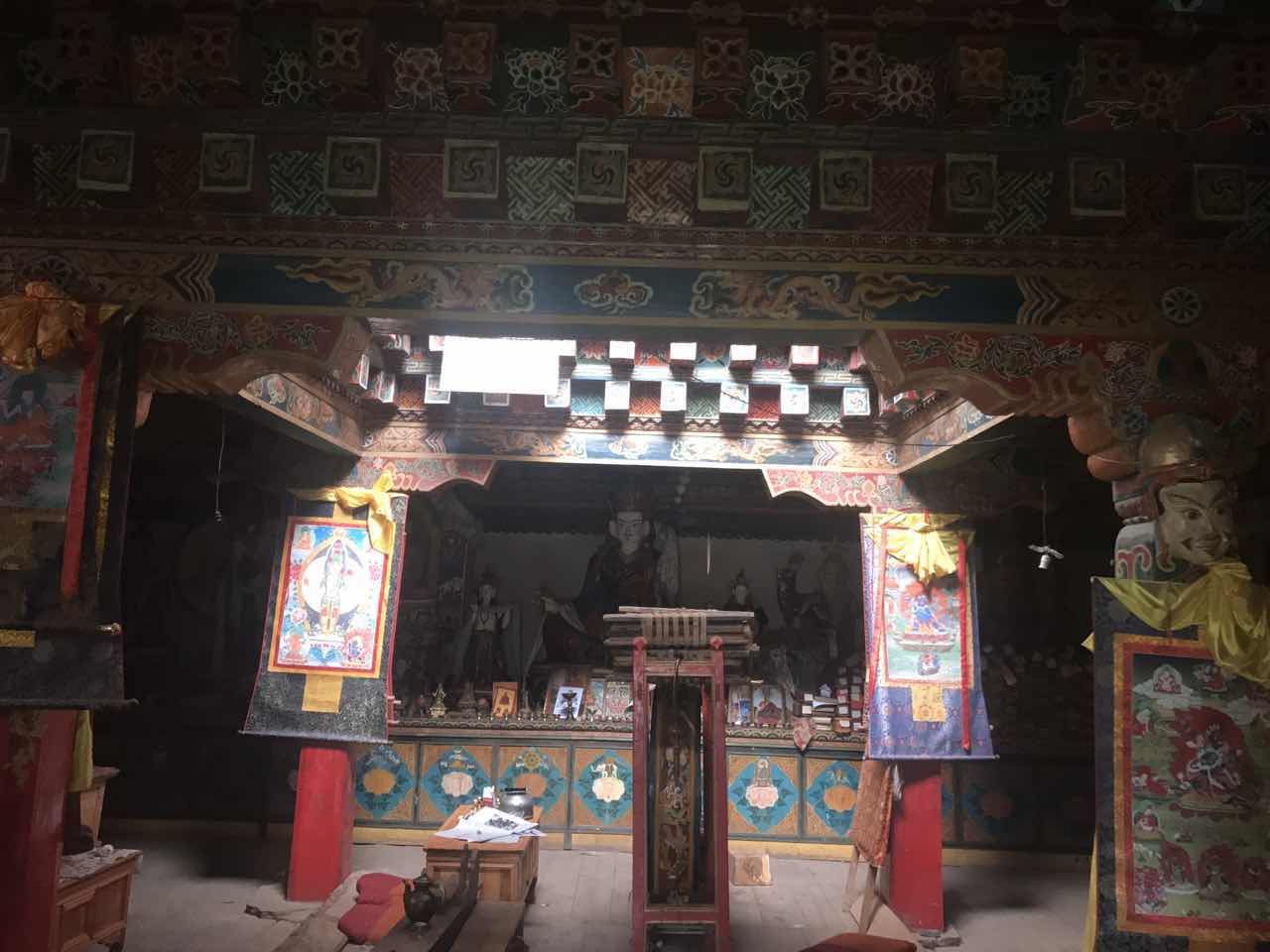 The caretakers of this precious and historic Gompa wish to restore this Gompa as well as Sera Khandro's throne.
See the brief history below:
Tsasum Chokhorling Monastery also locally known as Chemorito was founded around in 1929 by Terton Sera Khandro in Kham Riwoche, eastern Tibet in a small village called Chemo Dhar. The holy mountain where the monastery is located is a Hayagriva ( ལྷ་རྟ་མགྲིན།) secret place and it is a Dudjom Tesar lineage monastery.
Dho Khyentgoma, a great Nyingma master and terton, was Tulku of Domang Gong monastery in Golok eastern Tibet and was considered to be the one of the six Khyentse Tulkus circa 1920. He was a direct disciple of Dudjom Lingpa and many of his texts are still available in the monastery today. Dho Khyentgoma Jamyang Losel was locally known as the Chaksel Lama, ( prostration lama). He prostrated from Golok to Lhasa and on the way he met his wife Dagmo Kyi (lady) from Kham Riwoche. After accomplishing his prostration to Lhasa he returned his disciples to Golok and he lived at Kham Riwoche in a small village called Yabrangkha. Sera Khandro invited him to Chenmo Dhar which is 3 kilometers far from Yabrangkha where she offered the holy place to him and accordingly, he established Tsasum Chokhorling. Dho Khyentgom.
Dagmo Kyi had two sons, Lama Tsewang Lhagyal and Tulku Kungzang who were both were Nagtons (སྔགས་སྟོན།) and very highly respected Vajrayana Lamas in general and especially in within the Nyingma lineage. In Kham Riwoche they were considered to be the most wrathful and powerful Lamas of their generation. Tulku Kungzang went to Golok and received empowerments from Dudjom Lingpa's youngest son Tulku Tersay Dorje Dardül and many other high lamas from Dudjom lineage. He passed away at his young age in Shimla India. Lama Tsewang Lhagyal became the main disciple of Dudjom Jigdral Yeshi Dorje and Chadral Sangye Dorje. He passed away in nineties and there was many auspicious signs at his cremation. Lama Tsewang Lhagyal and Tulku Kungzang had two sons with their first wife, Dagmo Dorje Drolma; Pema Tenzin and Rigzin Sonam who both became Nagtons. Rigzin Sonam was a practitioner ofSowa Rigpa, (a doctor of Tibetan medicine). He spent most of his time practicing meditation and passed away at a young age.
Pema Tenzin was also a Sowa Rigpa practitioner and looked after Tsasum Chokhorling Monastery and he made all the statues in the monastery. In her book of prophecies, Sera Khandro predicted that Pema Tenzin would bring great benefit to beings and he would guard and develop the white-robed lineage holders, Go Kar Changlo Chan ( གོས་དཀར་ལྕང་ལོ་ཅན། ) of the Dudjom Tesar.
Pema Tenzin and Rigzin Sonam had two sons and a daughter; Dakpa Tenzin, Tenzin Gyaltso and Yangchen Drolma. Tsasum Chokhorling Gongpa is currently cared for by Dakpa Tenzin and Tenzin Gyaltso. During this degenerate age many historical and precious monasteries, which are truly beneficial to sentient beings and for the flourishing of Dharma are deteriorating. Also in this so called progressive modern life, most of people choose to live in the cities and while the monasteries are slowly abandoned. As a result of the deterioration of the Gompas, young people have less access to or education about Buddhist Dharma. We take this period of degenerate age seriously, where the sentient beings are suffering from different causes, including by the disbalancing of the five elements, demonic forces and abominable acts to our spiritual guide etc. We are now commencing the work to fundraise in order to rebuild Tsasum Chokhorling Gompa which has been in disrepair for more than fifties years. Finally, everyone now has the chance to take part of this wonderful and and meaningful process and generate merit for oneself and for all sentient beings who are unable to do so by themselves.