His Holiness Yangsi Dudjom Pema Shepa Rinpoche visited Bodhivastu's Big Indian Meditation Retreat and Healing Sanctuary on July 5th, 2019. This extraordinary visit represents a fulfillment of a long time cycle spanning two Dudjom incarnations. Decades ago, while Lama Rangbar Nyimai Ozer was on retreat under the guidance of the previous Dudjom Jigdral Yeshe Dorje Rinpoche at Orgyen Cho Dzong in NY, he had heard that some people came from a nearby Ashram to get a tsokshing (Spine of a Stupa) in the shape of a Large Phurba, blessed by his Holiness for a Stupa dedicated to their Guru Swami Rudrananda. HH Dudjom Jigdral Yeshe Dorje Rinpoche blessed that and now, some thirty years later, due to the miraculous blessings of His Holiness, this Ashram has become a Dudjom Tersar meditation center where Vajrakilaya is practiced. Recently at our humble request, HH Yangsi Dudjom Pema Shepa Rinpoche blessed the entire Stupa in person. This Stupa, having been made with positive devotional intentions of previous custodians from the Rudi community and current blessings of His Holiness Yangsi Dudjom Pema Shepa Rinpoche is worthy of preservation.
Some major restoration stages have already been completed in previous years by Silver Ra Baker of the Rudi community along with his team from Texas.
This year, both Bodhivastu and Rudi communities gathered between August 17th to the 23rd when Silver Ra and his "Texas Team" returned to complete another stage of restoration of the lower portion of the stupa. Lama Rangbar offered teachings about stupas and meditation in general to the group during this time along with regular group fire puja practices and Bodhivastu community work on the meditation hall as well. Please enjoy several updated photo galleries below which show highlights of previous year's restoration activities and teachings as well as this years completed works. The work week was a major success with deep Sangha love and harmony in our common goals on the path. Good fun and good food for body, speech and minds were had by all.
See the updated photo gallery of the week's Stupa renovation work below: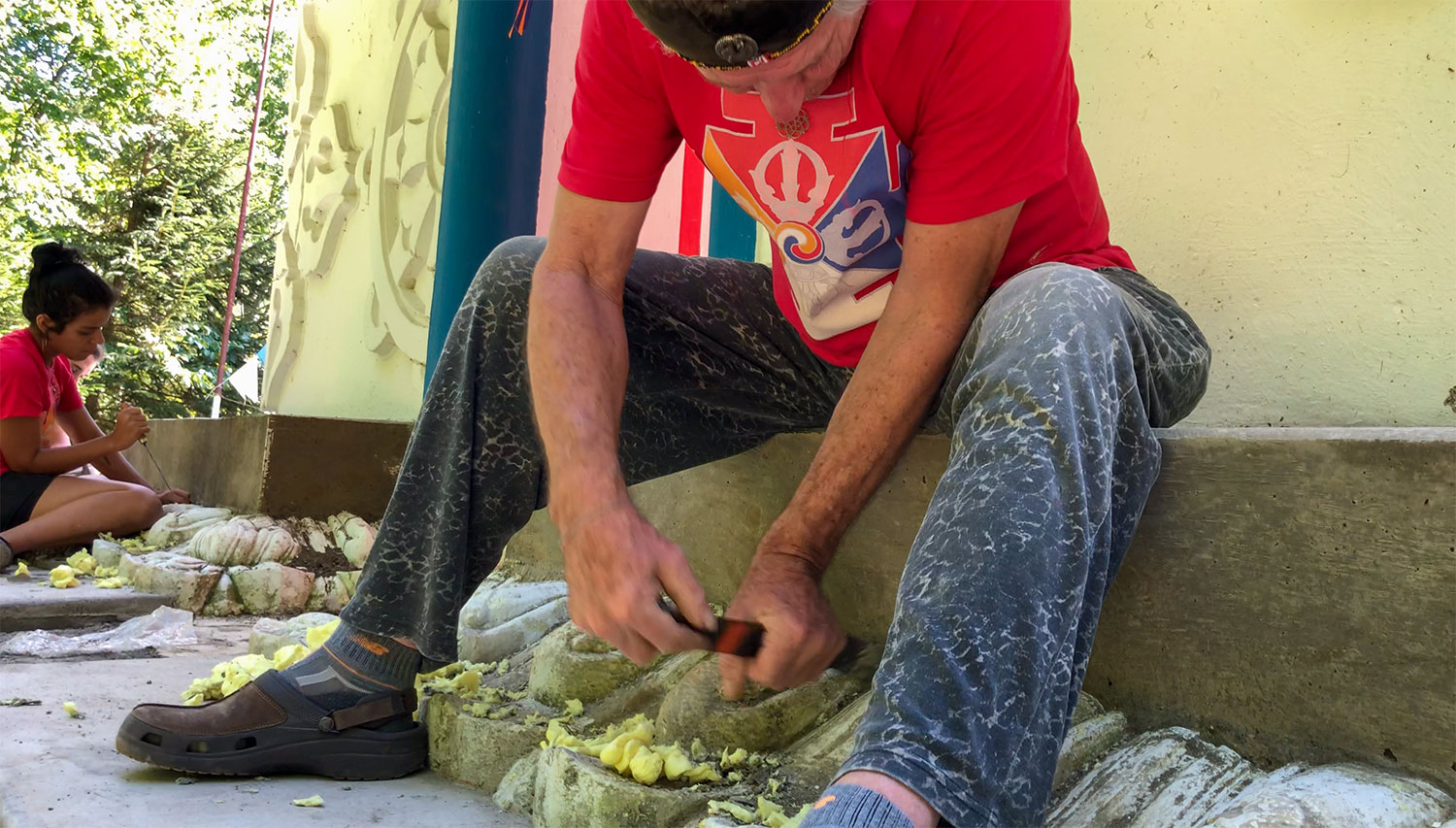 The below gallery is from the original construction of the stupa.
Please note that Silver Ra has the same hat on as today.
All Photos Courtesy of Terrell-Hasker circa 1970