Vajrakilaya Mendrup Drupchen update
NOTE: THE DRUPCHEN IS NOW OVER. The page is left up as a record only. BUTTONS FOR SEVERAL OFFERINGS HAVE BEEN REMOVED HOWEVER MENDRUP SHARES ARE STILL AVAILABLE.
Place: Dechen Mingyurling, Sankhu Vajrayogini, Nepal
Dates: > October 24th through the 27th: Preparatory Teachings on Drupchen practice, meaning and conduct by Lama Rangbar along with Drupchen mandala preparation and karma yoga.
> October 28th through November 5th of 2017. Main Drupchen dates.
> November 6th to the 15th: Mendrup drying with evening teachings and local Vajrayogini area pilgrimage with Lama Rangbar
Guru Padmasambhava foretold that in future time, great turbulence will arise due to human kind's moral and ethical decline giving rise to confused actions and results. Major natural calamities, (flooding, earthquakes, fire outbreaks, etc.), new diseases and prolonged warfare are just a few of the arisings he predicted.

Thankfully, Padmasambhava also foretold that the practice of Vajrakilaya would be superior to all other practices for quelling these arisings for humanity and all beings. Vajrakilaya is the manifestation of the Buddha activities of all the Buddhas of the three times and ten directions, namely, pacifying, enriching, magnetizing and liberating.
Lama Rangbar arrived in Nepal late August to join Lama Pema Thobchen, (mendrup drupchen coordinator for Bodhivastu Foundation), Tulku Thadral, (Drupchen Loppon) and Lama Yedrol, Drupchen substance master), in the preparation activities for the mendrup drupchen. Great strides have been made on many levels.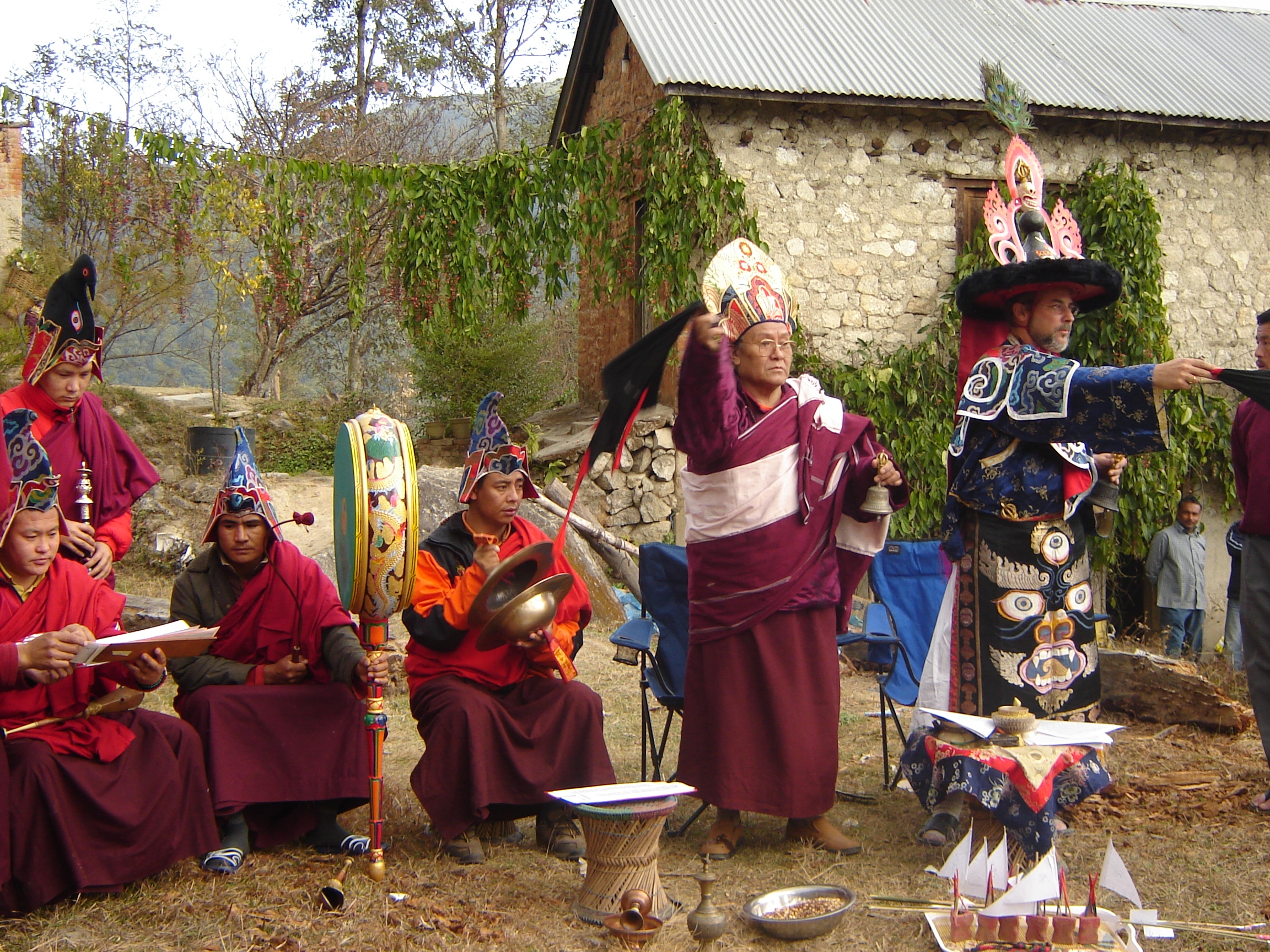 Accomplishments during the past 2 months:
Mendrup and Longevity Pills; ingredients, benefits and process:
Mendrup preparation: The production of Mendrup (sacred accomplishment medicine) and Tseril (longevity pills) require involved processes drawing from thousands of herbal ingredients as well as relic collections, earth samples from holy places as well as precious gems etc. Mendrup and Tseril are blessing substances that come from a category of bestowal of blessings called "liberation upon tasting". This means that both Mendrup and Tseril have the power to diminish obscurations of the Nervers (Tsa), Winds, (Prana) and Seed essences, (Bindu), thereby assisting practitioners to gain meditative insight and decrease illnesses, uneasiness, etc. The substances are also used by practitioners in a myriad of offering ceremonies such as Riwo Sang CHod (fire puja), as a blessing for bodies of water and waterways and to wear as a protection amulet. The substances are also used to transfer blessings to people who cannot attend the main ceremonies or practice regularly. The substances gain their effectiveness from the lineage blessings imbibed into the substances during the ceremony and from the ingredients mentioned in the Vajrakilaya mendrup text itself. Lama Rangbar has been offered sacred "father" (papta) substances from the Nyingmapa lineage of Dujom Tersar by His Holiness Dungse Shenphen Dawa Rinpoche, Kyabje Dodrupchen Rinpoche, Sangyum Kamala Rinpoche, and many other important lineage sources. These rare and precious substances are now being compounded in a single father mixture which will empower the entire batch.
Special Relics for the Mendrup Drupchen is being offered from Dudjom Lingpa's Gompa in Kham Riwoche Tibet established by Sera Khandro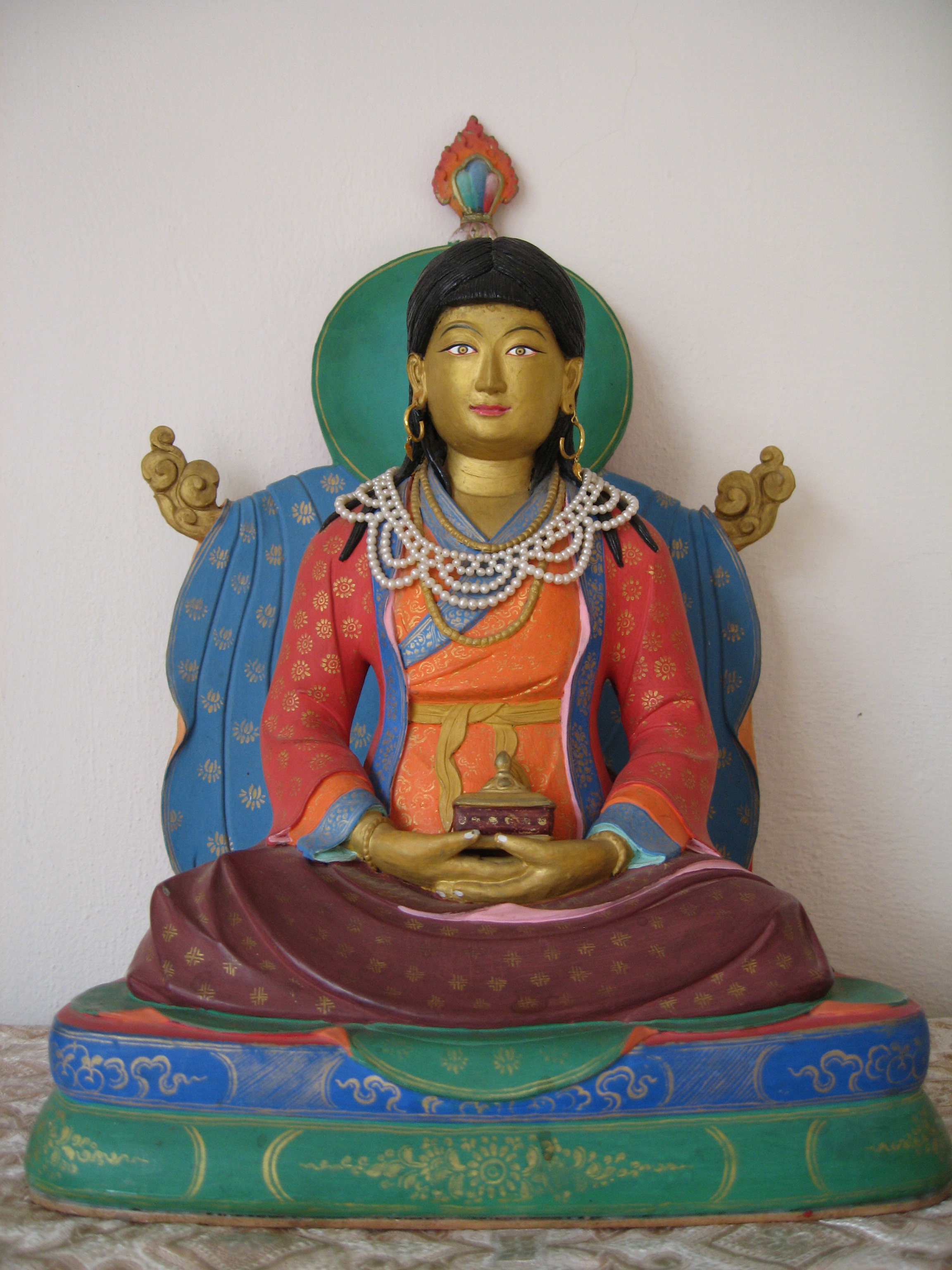 Mendrup is an extremely precious substance which is difficult to produce. Many support elements are needed and must be weighed into the making of the mendrup. Although Mendrup is never sold, those wishing shares of mendrup can only obtain them by either supporting its production, participating in the drupchen or as an offering from the Lama. Those participating in the drupchen automatically receive a share of mendrup as per tradition.
The opportunity to support the mendrup process itself also means that supporters will be afforded mendrup shares with Tseril accordingly to the schedule below. Currently various Mendrup share sizes are open for immediate support regardless of physical attendance in Nepal. Please confirm and actualize your support so you will not be disappointed as quantity is certainly limited.
A. Amchi Menpa (Doctor's Share) - $ 2,500 (includes shipping within USA)
B. Large Mendrup share - US $1,000 (includes shipping within USA)
C. Naljorpa / Naljorma (Yogi / Yogini Share) - $ 500 (includes shipping within USA)
D. ML mendrup share - $250 (includes shipping within USA)
E. Medium Mendrup share - $108 (includes shipping within USA)
F. Small Mendrup share - $55 (includes shipping within USA)
G. Minimum share sponsor - $25 (please add $5 for shipping within USA)
3. Text translation by Cheryl Lins: The main Sadhana for this Vajrakilaya Drupchen is the Putri Redpung, a Treasure text (Terma) of His Holiness Dudjom Jigdreal Yeshe Dorje Rinpoche. However, the section needed to draw down blessings into the mendrup (drup Khok) comes from Namchak Putri the Terma text from Dudjom Lingpa his predecessor. As this text has never been translated to the best of our knowlege, Cheryl Lins has taken on the responsibility to translate this section so that western students participating can join into this critical element of the practice helping them to appreciate the meaning, benefits and blessing power of the substance itself. To facilitate this, Lama Rangbar has also taken consultation with Tulku Thadral while in Nepal and the team is now close to completing the work. Copies of the Drup Khok and main sadhana will be available for participants for a nominal fee. The text will be made available to participants but it is requested that you order your copy soon so that a copy is produced for you.
We must still raise raise some remaining fujnds to cover for drupchen cost overruns.
Accomodations:
Five humble but clean rooms have been reserved in a nearby home for participants visiting from the west. Additional rooms will be available closer to the drupchen time and cleared spaces will be provided for tents as well. At this stage we ask those who have requested rooms to contact us to confirm them by making payments accordingly. Please contact us at info@bodhivastu.org
The Benefits of Supporting the Drupchen
There are many supreme benefits in supporting this precious Vajrakilaya Mendrup Drupchen for the benefit of all beings. To begin with, substantial support yields benefits on substantial levels such as removal of outer, (negative situations and obstacles), inner (health problems) and secret, (doubts, depression and mental hindrances) and a host of other obstacles such as; purification of negativity and negative circumstances, generation of wealth and prosperity and spontaneous accomplishment of all wishes.
> Supporting the building of the accommodations (offering shelter to practitioners) paves the way for this and all future drupchens as well as future retreats of accomplished practitioners. These practitioners are always dedicating the merit of the supporters and this ripens in an ongoing fashion. It stands to reason that the future result is always having a good dwelling and time and place to practice Dharma.
> Supporting the creation of the hand-crafted wooden Phurba Mandala: This mandala will be used for the removal of obstacles for countless beings into the future. Result: remaining free of obstacles and having the capacities to remove obstacles for others in this and future lives. Penetrating through illusion and reaching unsurpassable enlightenment.
> Supporting food for the Lamas, Yogis and Yoginis performing and participating in the ceremony.
Different ways to Support the Drupchen:
There are several ways to support the drupchen which make it easy to give at the level you are comfortable with.
1. Support any amount to be used where most needed. This is the most preferable for we who must assure a successful program.
2. Support a particular item such as residence, food, offering to Lamas, Acacia wood Phurba Mandala etc.
3. Offer support using one of several packages such as supporting on a mendrup share basis, Phurba with mendrup share, Dudjom Lingpa statue, 5 metal offering stick (Rinchen daru Nga)
To learn about how to connect your sponsorship by supporting iron phurbas or Dudjom Lingpa Statues please use the below links:
Other Offerings to Connect with the processes:
The Medrup Drupchen is unique as the full blessing power of the interdependence of the activities can be linked to people by their tangible sponsorship. We can participate by practice but by tangible support the linkages of interdependence are fully manifest. Also, by supporting any of the following generosities, great merit can be quickly accumulated and tangible benefits realized. Sponsors names are read out and special dedications will be done as well. Please mention how you wish to target your donation in the comment box provided or write "unspecified."
1. Offering Tsok for one day $150
2. Offerings to all Lamas and participants for one day of activities $300 (with Katags)
3. Phurba Mandala $5,200
4. One time tea offering for Lamas and participants (tea is offered at least two times a day) $30
CANNOT JOIN IN PERSON? WANT TO JOIN US IN PRACTICE FROM AFAR ANYWAY? CLICK BELOW: